As we continue to monitor economic and market trends in emerging markets (EM), we find that the Price-to-Book – Return on Equity (PB-ROE)[1] analysis we described in our last update offers a flexible methodology for applying different lenses to the EM investment landscape.
Our last analysis used the PB-ROE analysis to examine how cheap or expensive different EM countries were relative to their level of profitability. In this update, we're comparing valuations and profitability among major industries in the EM small-cap universe. To provide additional context that's important to many investors, we've also applied a layer of Environmental, Social, and Governance (ESG) analysis to examine the potential relationships between valuation, profitability, and ESG considerations.
The chart below highlights conditions in the EM small-cap landscape as of June 30, 2021.
The y-axis plots each industry's median book yield, placing cheaper industries higher on the chart.
The x-axis plots each industry's median return on equity, placing more profitable industries farther to the right.
Industries are color-coded according to their median ESG scores based on MSCI ESG ratings. Industries in orange have the lowest median ESG scores, while industries in blue have the highest.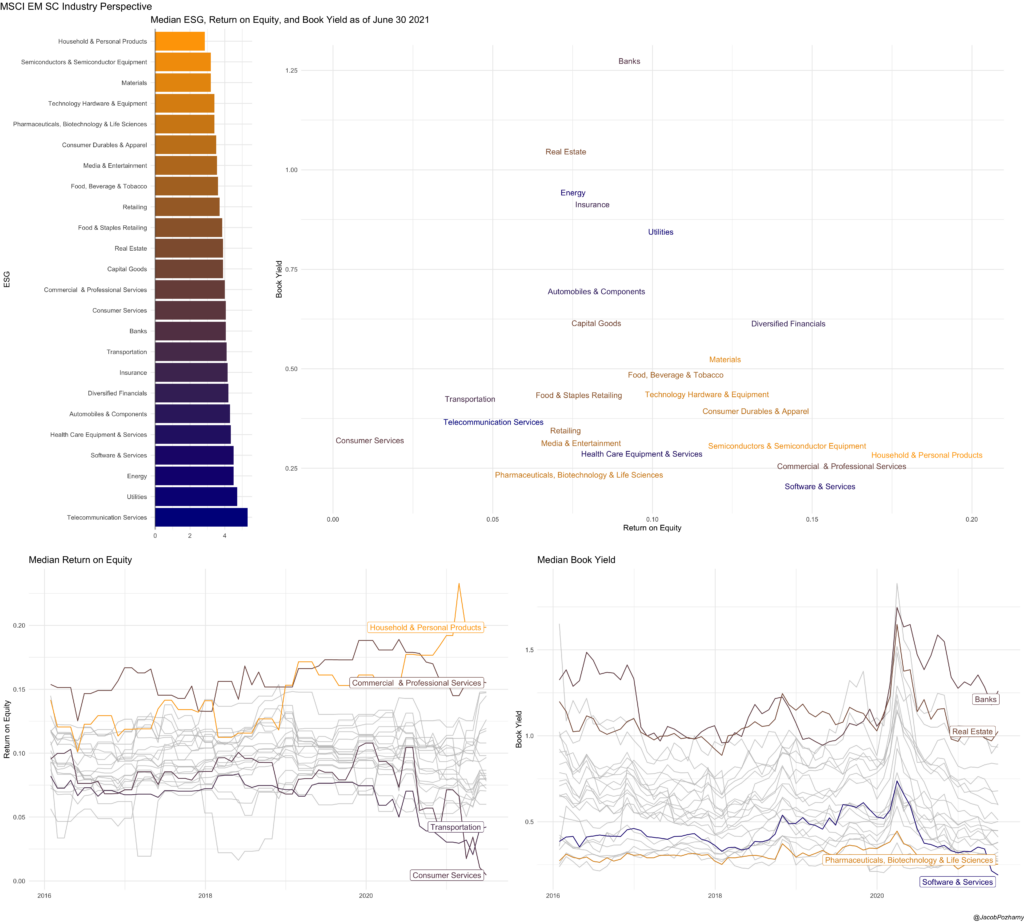 Source: FactSet, MSCI, and Bridgeway
More profitable industries typically command a higher valuation. We expect that the cross-section of industry Book Yield and ROE medians to be negatively correlated as more profitable industries are more expensive while less profitable industries are less expensive. This chart uncovers investment opportunities in the outliers – industries that don't conform to these expectations. So what does this PB-ROE scatter chart tell us about EM small-cap industries?
Lower profitability or valuation
Consumer Services and Transportation currently have the lowest profitability—and also look quite expensive given those low levels of profits. We see the impact of COVID-19 on those two industries, which were hit particularly hard by lockdowns.
Banks and Real Estate companies in the EM small-cap universe are viewed as risky by investors and are valued cheaply considering their ROEs. They certainly don't conform to our PB-ROE expectations because of the economic pressures that COVID-19 has placed on these industries. For example, investors may see bank loans and real estate rents as at-risk as segments of the economy as borrowers may not be able to pay mortgage and interest payments. Further, global COVID-19 policies have placed significant pressures on commercial real estate properties. Our PB-ROE model see these industries as interesting opportunities as market expectations stabilize. We will be monitoring their profitability levels and earnings forecasts closely to determine if the current valuations and investor reactions are overdone.
Higher profitability or valuation
At the far right of the chart above, we see industries that benefited from the pandemic: Household and Personal Products, Commercial and Professional Services, Software, and Semiconductors enjoyed higher demand and higher profits as consumers stocked up on household goods and electronic devices during lockdowns. At the same time, valuations have risen, making these industries relatively expensive.
ESG Considerations
Given the rising interest in sustainability and ESG strategies, understanding how different industries perform on ESG metrics can be another important consideration for EM investors. In the bar chart to the left of the PB-ROE analysis above, we've ranked industries by median ESG score based on MSCI ESG ratings. MSCI's methodology is one of the leading industry frameworks for determining a company's resilience to long-term financially relevant ESG risks. More specifically, MSCI ESG scores measure exposure to ESG risks and opportunities at the industry level. Each industry is evaluated on the three pillars – Environmental, Social, and Governance – which comprise 10 separate themes. Each theme has multiple Key Issues that may or may not be relevant to a company's specific industry. Company specific MSCI ESG ratings are a weighted average of the scores on the Key Issues and are normalized relative to the compay's industry peers. In the bar chart, the lowest-scoring industries are at the top, while the highest-scoring industries are at the bottom:
Telecommunication Services and Utilities currently have the highest overall median ESG ratings in the emerging markets small-cap universe.
Household and Personal Products and Semiconductors/Semiconductor equipment have the lowest overall ESG ratings. Household and Personal Products historically (and currently) have a particularly low median score on the Environment pillar of the MSCI ESG scoring methodology, while the semiconductor industry has a particularly low median Governance score.
As with other metrics, this is a snapshot in time: industry median ESG scores and their rankings change over time. But for EM small-cap investors interested in incorporating ESG into their portfolios, this data provides additional context about conditions in the EM small-cap universe. Bridgeway investment professionals have extensive experience building ESG-aware, non-US equity portfolios that seek a strong risk-adjusted return profile while simultaneously seek to improve the ESG profile across industries and countries using our proprietary Active Share Proportionality portfolio construction techniques.
---
[1] PB-ROE are financial measures referring to the price-to-book (PB) ratio and return on equity (ROE) of a company.