This article was originally published by Pensions & Investments on February 28, 2022. Posted here with permission of Crain Communications, Inc.
Article Excerpt:
The top-performing domestic equity managers as measured by Morningstar Inc.'s separate account and collective investment trust database are taking an integrated approach to ESG and sustainability.
Small-cap and microcap strategies led the way in 2021, helped in part by deep analyst teams that are able to utilize their existing capabilities to explore portfolio companies' levels of sustainability.
Bridgeway Capital Management, Houston, led all domestic equity managers with a gross return of 69.19% and a net return of 68.06% for the year ended Dec. 31, 2021.
To read the full article, click here or the image below.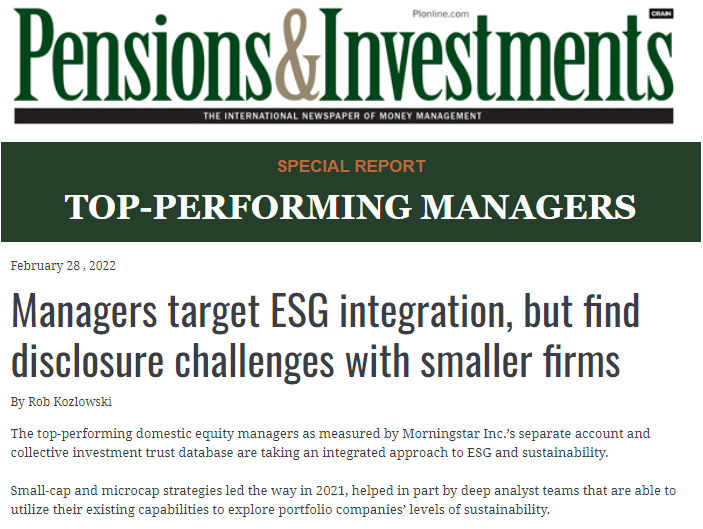 DISCLOSURE
This material is intended for use by investment professionals and institutional investors only. It may not be reproduced or shown to members of the public or used in written form as sales literature.
Performance data quoted represents past performance and is no guarantee of future results. Bridgeway Small-Cap Value Composite return presented gross of fees.
Bridgeway Capital Management, LLC claims compliance with the Global Investment Performance Standards (GIPS®). GIPS® is a registered trademark of CFA Institute. CFA Institute does not endorse or promote this organization, nor does it warrant the accuracy or quality of the content contained herein. A full presentation in compliance with GIPS® and a complete list of composite descriptions are available upon request by contacting Bridgeway Capital Management, LLC at:
20 Greenway Plaza, Suite 450
Houston, Texas 77046
713-661-3500
info@bridgeway.com