The following podcast originally appeared on June 12, 2023, on the Journey With Christian D Evans. The podcast is posted here by permission of Journey with Christian D Evans podcast.
Click here or on the following link to listen to the podcast.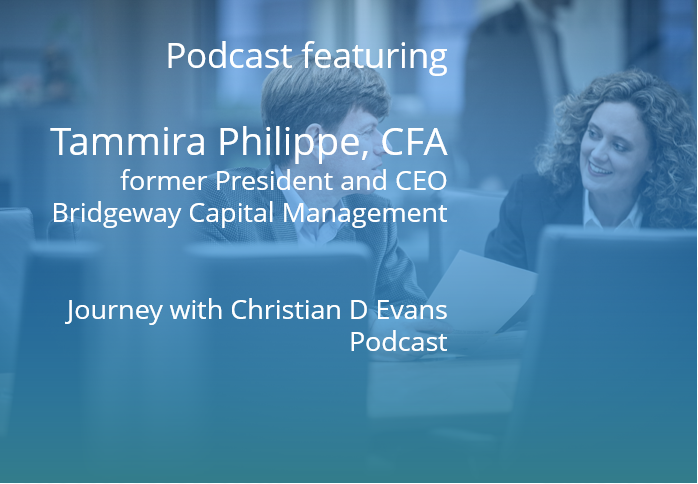 Business leader, trusted advisor, and experienced board member with demonstrated history in setting strategy, building strong culture, and driving growth using analytical, financial and project management expertise. Skilled at managing diverse teams that can navigate change and consistently deliver superior business results. Highly proficient in identifying areas to maximize profits, mitigate risk and minimize costs, as well as translating business needs into actionable plans to improve processes while increasing efficiency and profitability
► As President and CEO, set strategic direction and guided all operations for boutique equity asset manager
► Member of Board of Directors
► Member of firm's Portfolio Innovation and Risk, Responsible Investing, and Enterprise Risk Committees. Provided financial and compliance oversight and support client service and business development efforts
► From 2010-2016, led firm's sales effort, including strategic relationships, channel strategy, marketing, institutional sales, and client acquisition and service
► From 2005-2010, served as a Strategy and Operations Partner with responsibilities in mutual fund administration, finance, strategic planning, human resources, and investment operations
Disclosures
The opinions expressed here are exclusively those of Tammira Philippe, CFA. Information provided herein is educational in nature and for informational purposes only and should not be considered investment, legal, or tax advice.
Investing involves risk, including possible loss of principal. In addition, market turbulence and reduced liquidity in the markets may negatively affect many issuers, which could adversely affect investor accounts.
Diversification neither assures a profit nor guarantees against loss in a declining market.