The following podcast originally appeared on September 10, 2021, on the Take the Long View podcast. The podcast is posted here by permission of the Take the Long View podcast.
Click here or on the following image to listen to the podcast.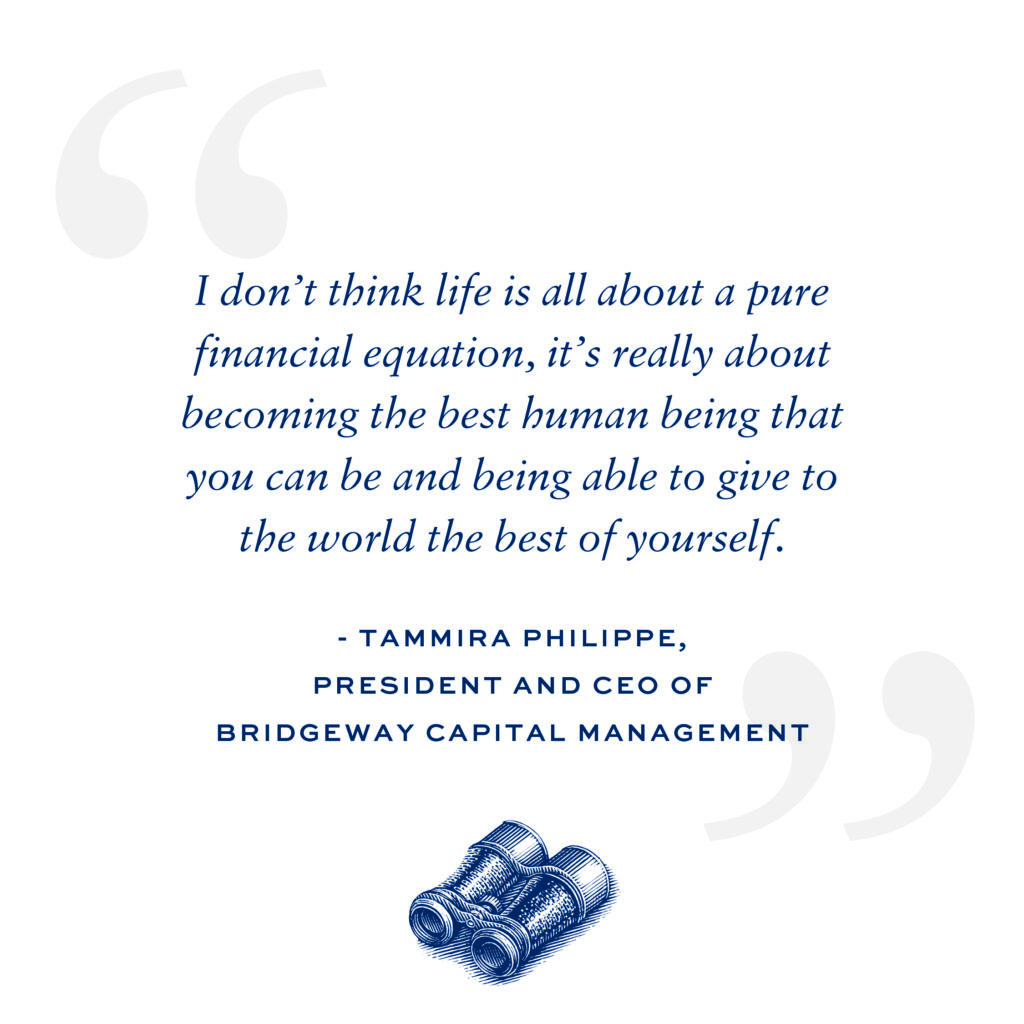 From Take the Long View:
Tammira Philippe is the embodiment of the American dream. The first in her family to go to college and now the CEO of Bridgeway Capital Management, Tammira has paved a purposeful path for herself and her organization. Enjoy this episode as Matt talks with Tammira about her journey from Channelview, Texas, to the boardroom. Hear how Matt insulted Tammira a decade ago, how Tammira believes balance is boring, and her take on the essential qualities of a leader.
More about Tammira
Tammira began her career at Bridgeway in 2005. She is President and Chief Executive Officer of Bridgeway Capital Management and is a member of the firm's Board of Directors and Portfolio Innovation and Risk Committee. As President, Tammira's responsibilities include developing and executing the firm's strategy, overseeing all operations, and contributing to the marketing and client service efforts. Before becoming President, Tammira led strategy and operations projects at Bridgeway from 2005 to 2010 and was Head of Client Service and Marketing from 2010 to 2016.
Tammira earned an MBA from Stanford's Graduate School of Business and graduated summa cum laude with a BS in Computer Science from Texas A&M University. Her experience before Bridgeway includes strategy consulting with McKinsey & Company and business development and marketing for a global satellite communications startup. She is passionate about promoting education and social justice and volunteers with organizations focused on those missions. Tammira serves on the Texas A&M University Computer Science and Engineering Advisory Council. She previously served as a board member for the Education Foundation of Harris County and as a member of the Advisory Board of the Terry Foundation. This scholarship provider supported Tammira's education.
Key Topics
Intro (00:13)
Growing up and early dreams of leadership (3:22)
Working for McKinsey (6:08)
ROI of an MBA (9:10)
Finding Bridgeway (11:10)
Partnership at Bridgeway (19:25)
Married to a Frenchman (21:57)
Teaching kids about money (24:32)
Where to learn more about Tammira (39:00)
Disclosures
The opinions expressed here are exclusively those of Bridgeway Capital Management ("Bridgeway"). Information provided herein is educational in nature and for informational purposes only and should not be considered investment, legal, or tax advice.
Investing involves risk, including possible loss of principal. In addition, market turbulence and reduced liquidity in the markets may negatively affect many issuers, which could adversely affect investor accounts.
Diversification neither assures a profit nor guarantees against loss in a declining market.